The Carver's Crypt
A twisted turn on the classic Halloween tradition. Find out what happens when the pumpkin actually tries to carve you!
Toxic fertilizer has maniacally morphed our pumpkins into ghoulish gourds – nightmarish creatures straight from Hell, intent on exacting their horrific revenge on the very people who want to carve them up each Halloween. These putrid pumpkins are angry and looking for their next victim to carve. Will these cursed jack-o-lanterns and the grotesque creatures they command complete their terrible reaping? Or will you make it out of the Carver's Crypt alive?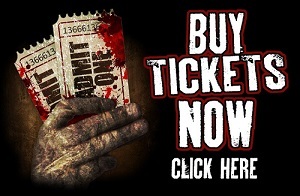 Hours and Dates
Open weekend nights in October + Halloween!
Hours: 6pm - Midnight*
*Closes at 10pm on OCT. 19, 22, 26, 29, 30, and 31
Sponsors
Terror In the Corn is a family-owned and operated event that has been serving and scaring Southern Arizona for over two decades. It takes months of effort and many people working together to make our event happen, and would not be possible without the support from our community and local businesses. Thank you to Marana and our many sponsors including: