The Blood Bank
You won't be donating blood here. The vampires who live here will be taking it from you!
These rundown buildings aren't void of life, they've just been overrun with the vicious undead. Blood drips from every corner. Shadows appear at every turn. Slithering, sharp-toothed creatures emerge from the structures looking for their next meal. The worst of the vampires have taken over, and their hunger is insatiable. These demons want more than your blood…they want your soul. Will you make it through The Blood Bank unscathed or will you just be another "donor" on their demonic menu?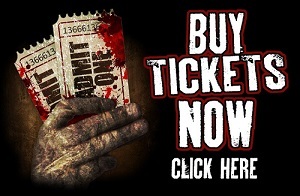 Hours and Dates
Open weekend nights in October + Halloween!
Hours: 6pm - Midnight*
*Closes at 10pm on OCT. 19, 22, 26, 29, 30, and 31
Sponsors
Terror In the Corn is a family-owned and operated event that has been serving and scaring Southern Arizona for over two decades. It takes months of effort and many people working together to make our event happen, and would not be possible without the support from our community and local businesses. Thank you to Marana and our many sponsors including: