Nightmare Bayou
What blood-curdling creatures and backwoods monsters await you in this spine-chilling swamp? The answer - all of them!
Navigate your way through this nightmare – a foul, godforsaken hellscape that beckons the very worst, most hideous horrors found in folklore. This evil bayou is infested with inbred cannibals, flesh-hungry zombies, ancient cryptids, voodoo witches, murderous creatures, and other unsavory undead – all slinking from below the murky black water to grasp the unwary with their cold hands and drag them down into this malevolent bog. Will you escape the bayou or succumb to the nightmare and become lost to wander the swamps forever?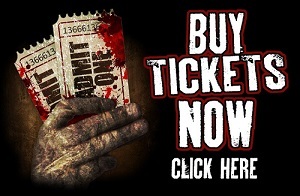 Hours and Dates
Open weekend nights in October + Halloween!
Hours: 6pm - Midnight*
*Closes at 10pm on OCT. 19, 22, 26, 29, 30, and 31
Sponsors
Terror In the Corn is a family-owned and operated event that has been serving and scaring Southern Arizona for over two decades. It takes months of effort and many people working together to make our event happen, and would not be possible without the support from our community and local businesses. Thank you to Marana and our many sponsors including: